Here we provide many links and articles for new endurance riders, great books, plus information for everyone about our organization and other trail riding sites.
American Endurance Ride Conference (AERC)
Pacific North Endurance Rides PNER
Horse Council BC (HCBC)
Accepting suggestions for more helpful links (web@erabc.com).
For information about our association, awards criteria, putting on rides, and more:

Handbook 2017 – awards criteria, Endurance Trial (formerly LD) rules, bylaws, putting on rides, etc.
AERC Limited Distance Rules – Competition/Rules & Regs – see pg 12 of Rulebook (for use when AERC sanctions a limited distance ride in BC)
Educational Links:
Your First Ride by Elaine Bessuille
Great articles by well-known endurance rider Karen Chaton
Susan Garlinghouse, DVM, MSc, Equine Nutrition and Research articles on Karen Chaton's site
The Long Rider's Guild– The world's first international association of equestrian explorers
Dr. Beth Valentine, Vet Pathologist: Virtual Vet. Questions and Answers
Lecture by Corey Hart (Video)
www.equineguelph.ca
www.equinesciencecertificate.com Your pathway for equine education!
www.equimania.ca The place for kids to learn about horses!
AERC Educational Videos Instructive videos for horse camping, vet checks, and crew bags, with more promised!
Books:
New Book for advanced riders by Dennis Summers (2012):
"Ten Feet Tall, Still" by Julie Suhr: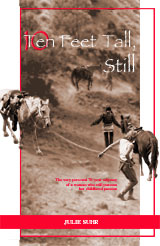 An inspiring book of personal challenges written by one of our foremost endurance riders out of California. At 75 she is still doing endurance. Started at age 40 or so doing the Tevis. Has over 20 Tevis completions beaten only by her daughter Barbara Smith. Available at Marinera Publishing, Scotts Valley CA 95066 or AMAZON – follow the link above.
New in 2012: . . . but it wasn't the horse's fault — a rambling catchall by Julie Suhr available at Marinera Publishing

Leonard Leisens' European perspective:
More helpful articles:
PDF Format: